Wood is the most sustainable building material and contributes relatively little to a building's carbon debt.
Architects at Opal design buildings exclusively following the Passive House principals. Their fundamental goal is to generate a net-positive effect on the environment, making wood their preferred material.
Designed to replace a seasonal cottage on a south-facing lot wedged between the road and the lakeshore. The building was subject to strict restrictions on its footprint and overall height.
Opal Architecture responded to those constraints with a single-level design concentrating its volume on a combined kitchen, dining, and living space. Two private areas - a primary bedroom suite and a study/guest room with a second bath - spread out to the west and east, respectively. A stepped façade gives every prominent space a lake view. So everyone can experience the magnificence of living lakeside.
The house's complex geometry presented a challenging test case for CLT construction. Still, careful detailing allowed to specify prefabricated, solid-lumber panels for the building's structural walls, ceilings, and roof. Left exposed on the interior, the panels constitute the finish surfaces at the walls and ceilings.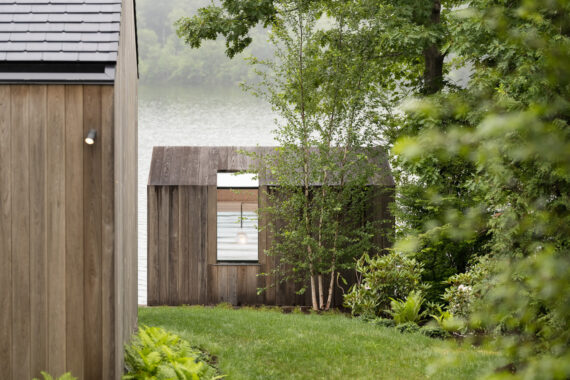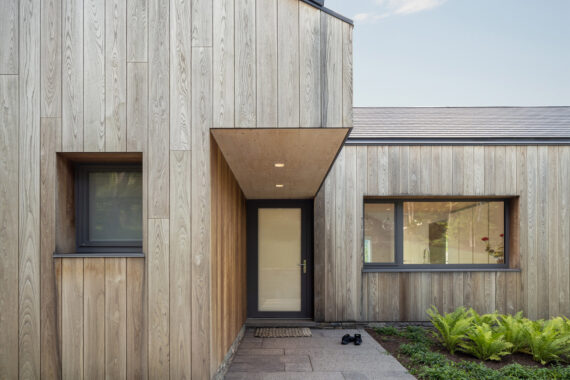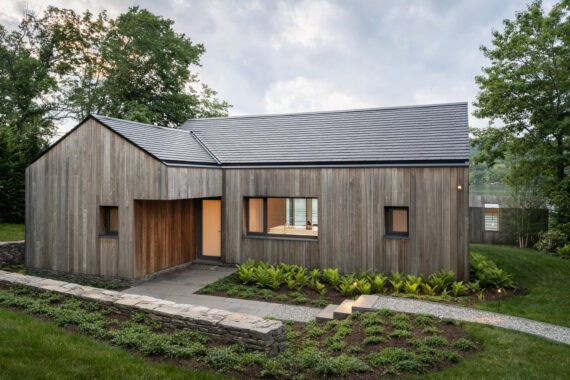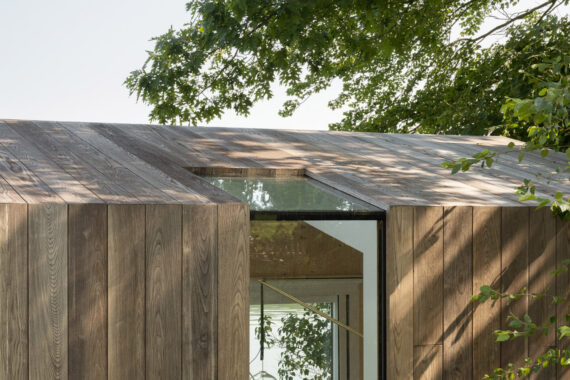 This solid CLT building shell is encased with rigid wood fibre insulation boards - yielding a Passive House level of energy efficiency- and sheathed in Thermory's Benchmark Ash siding to complete the All-Wood construction.
Because the shell has no conventional stud or rafter cavities, utility runs were affixed to the exterior of the CLT panels, and the insulation boards were carved and fitted around them. To minimise dependency on the power grid, the project incorporates Tesla's Solar Roof and Powerwall technology to generate and store electricity.
Opal Architecture used Thermory Benchmark thermo-ash cladding to create a timelessly elegant façade or a warm and cosy atmosphere indoors. In addition to this aesthetic appeal, the cladding has several other essential properties concealed beneath its beautiful surface – durability, simple installation options and easy maintenance and yet still provides a rich, deep tone.